Columbia Care's nationwide dispensary chain gets a retail refresh.
In today's patchy market, developing a national cannabis retail brand with staying power is an unenviable task. The evolving needs of patients and consumers across unevenly legislated markets collide with a desire for cohesive branding, particularly as some areas undergo the transition from medical to adult use. How do you build something today that is capable of adapting to an uncertain tomorrow in a highly regulated, uneven industry, largely without precedent?
New York-based multistate operator (MSO) Columbia Care has spent the past two years trying to answer this question. While its peers grabbed headlines for their continued growth, Columbia Care quietly amassed a national footprint of ninety-nine stores across fourteen states that run the gamut from legacy adult-use (California, Colorado) to emerging medical markets (Virginia, Pennsylvania, Missouri). In 2022, the $1-billion MSO will expand its refreshed approach to retail.
"As we've been growing our footprint, our team has been working really hard behind the scenes to build the MSO of the future," said Chief Growth Officer Jesse Channon. "That has meant a significant retail overhaul, a bolstered brand and product portfolio, and a transformation in the way we collect and harness data. This year, you're going to see these strategic investments continue to create velocity in the markets we serve."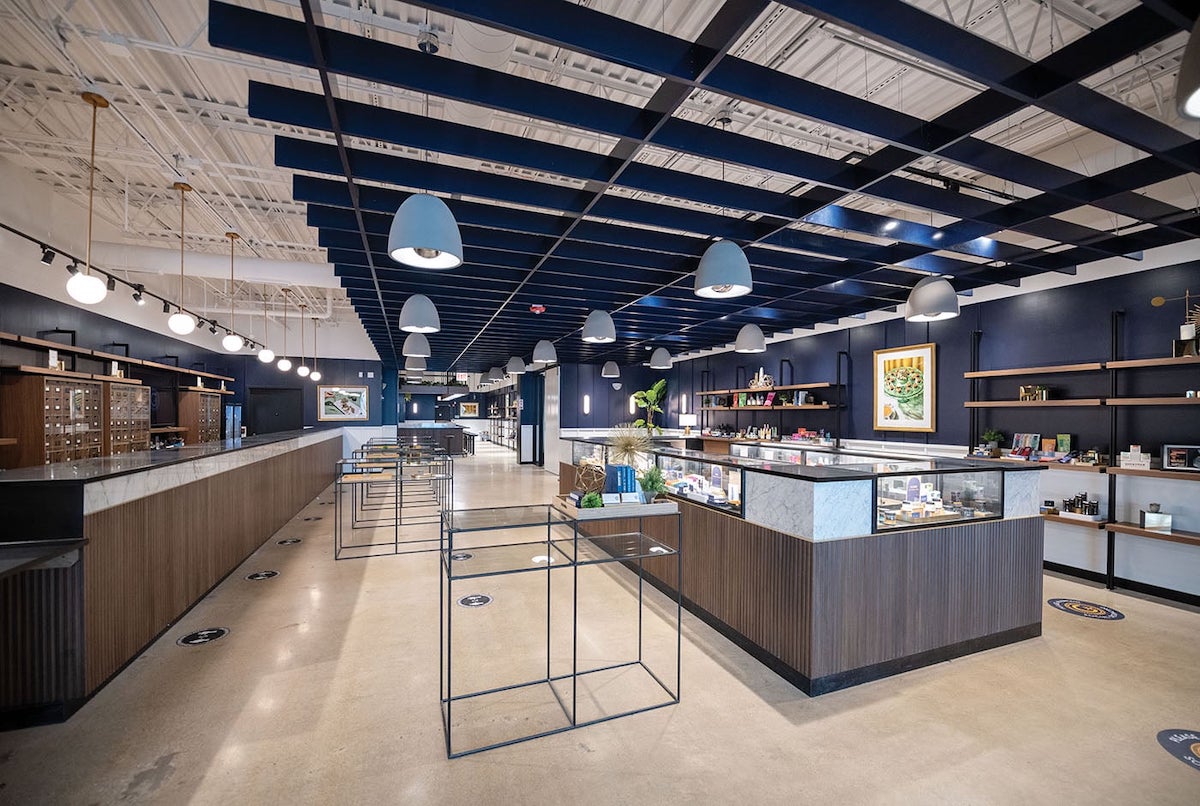 Columbia Care first debuted the Cannabist retail concept in mid-2021. The classy, smart dispensary chain positions the customer at the center of every decision, acting as a real-time intelligence pipeline that will inform the parent company's product roadmap across a fast-evolving national footprint.
From its formation in 2012, Columbia Care functioned as a medical-only operator. By the time Channon arrived in 2019, the market was becoming increasingly recreational nationwide, and the company knew it needed to build a store to accommodate that shift.
"We needed a concept that not only spoke to who we are as a company today, but also who we would become as we continue to follow the trends we are observing in the data," said Channon, a former ad-tech executive.
Delivering both compassionate care and dank good times with one store brand across more than a dozen independent markets is challenging. Channon and his team zeroed in on the intersection of patient and consumer as they strove to create a common, cohesive retail experience that could speak to diverging needs.
"We started by asking our staff and our customers, 'What is it you really want in a space?'" he said. "Words like comfortable, warm, inviting, and engaging were suggested over and over again, and these definitely didn't describe our existing space or the stores we saw around us. That prompted us to say, 'Screw it, let's be different.'"
The team coalesced around the words "empathetic education" as a guiding mantra, recognizing two major hurdles for new consumers: feelings of embarrassment and lack of understanding about products.
"Most dispensaries make the experience feel very transactional and hurried," Channon observed. "People get intimidated. They feel a bit embarrassed. It's not a great experience. And on top of that, they often buy the wrong product.
"We wanted the designers and staff to consider the words 'empathetic education' in every touchpoint of the space, whether it's the engagement of the education bar, the interactive displays, the way we dress, or how we talk to consumers," he added.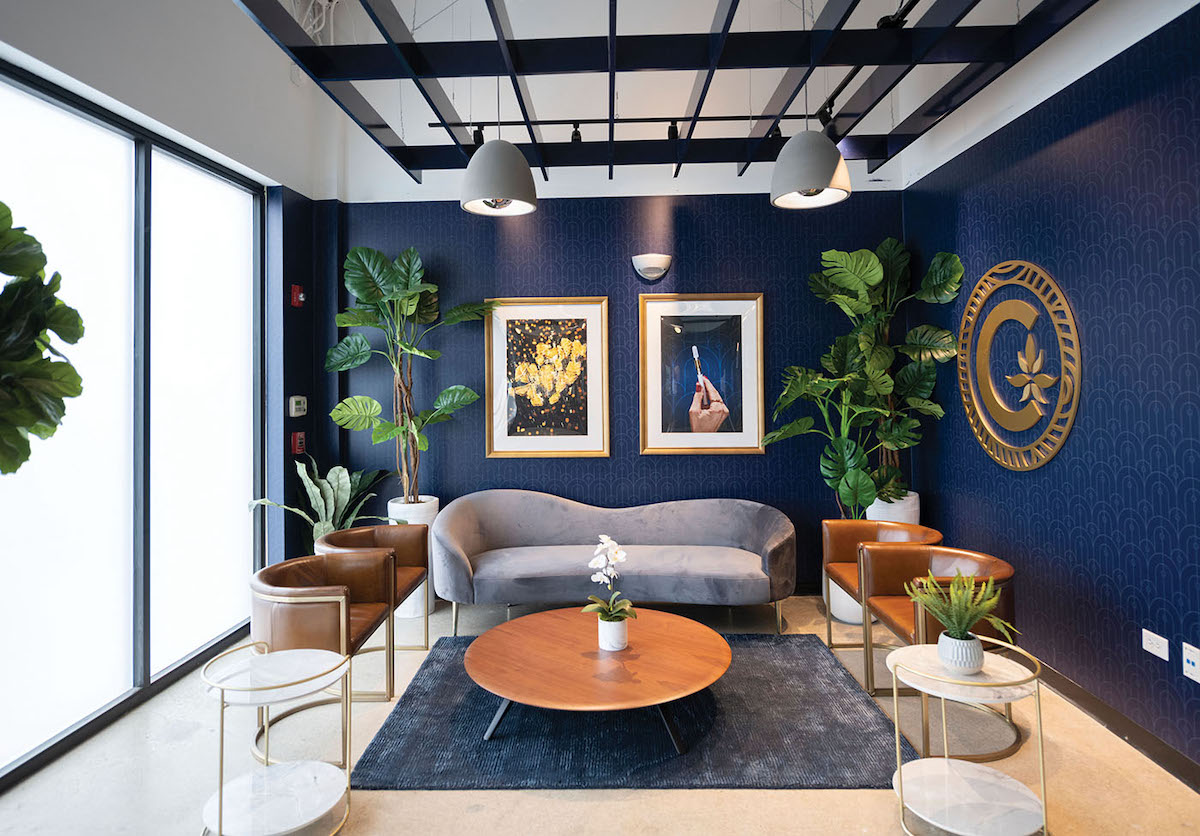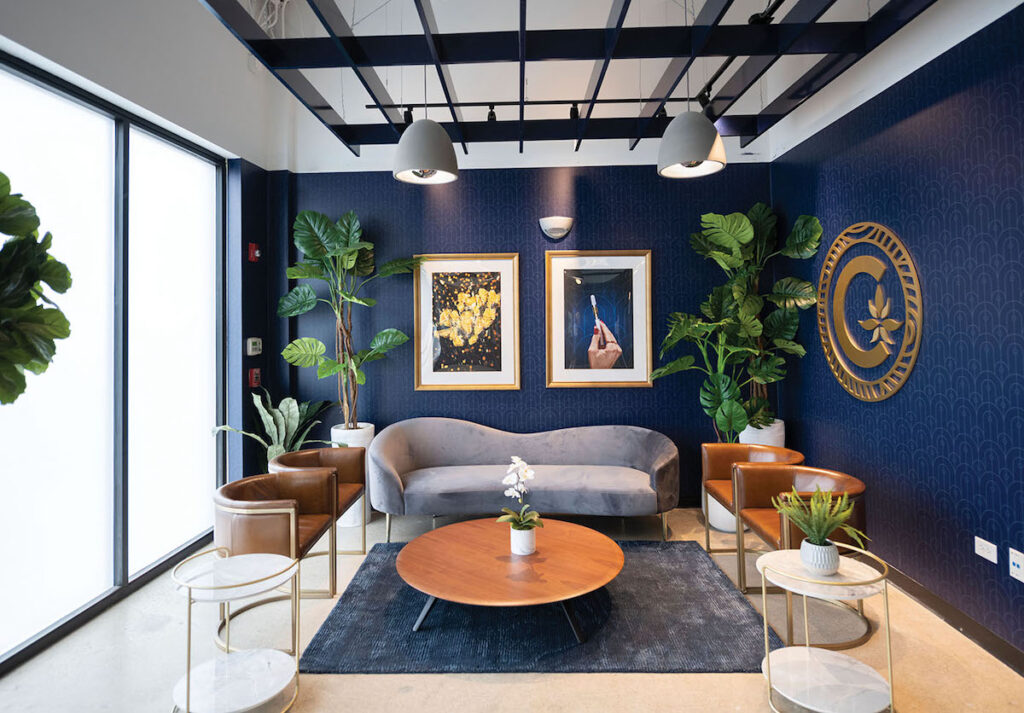 With its distinguished royal-blue base coat, hardwood, and marble surfaces framed with brilliant brass accents and fixtures, Cannabist welcomes customers and patients with a quiet class that never veers into pretension or exclusivity. The walls are adorned with art and photography, while bursts of foliage from the corners and shelves give the space a familiar allure, like a "high-end living room meets a speakeasy," in Channon's words.
The stores have shunned the traditional sales counter in favor of an open floor plan with information and product islands, allowing customers space and encouragement to explore the inventory with the help of a budtender.
But Cannabist stores really set themselves apart from other high-end dispensaries with Forage, the tactile digital budtender that guides customers toward the products best suited for them. Using a vivid touchscreen display in stores or a sleek web app at home, Forage invites customers to answer the central question "How do I want to feel?" by dragging a finger around the screen, morphing the tranquil gradient interface toward a tone corresponding to a desired mood. Subsequent location- and situation-based questions (Where are you consuming? What are you doing?) peel away the layers of consumption needs, leaving the customer with a tailored product recommendation from the store's available inventory.
At a glance, adding touchscreen technology to support product discovery may not seem like a point of innovation. But Forage is also Columbia Care's north star for future product development, guiding the parent company toward the products consumers are asking for—not what they bought. For Channon, understanding this distinction is crucial for giving Columbia Care the edge in newly legal states.
"The problem with [point-of-sale] data is it only tells you what people bought," he said. "And in emerging markets where supply is constrained, this doesn't tell us what they would buy if they had all the options you have in, say, California."
Forage currently supports Cannabist stores in Arizona, California, Colorado, Florida, Illinois, Massachusetts, Missouri, and Virginia, but the company intends to integrate the touchscreens into all of its dispensaries going forward.
At that point, Channon envisions Forage being Columbia Care's proprietary ear to the ground for national consumer trends before they emerge, pipelining real-time market intelligence to the central hub. That will allow the company to adjust both product development roadmaps at the state level and inventory at the store level.
"Forage makes us incredibly responsive to the needs of customers," he said. "Say we notice we have a growing number of Forage inquiries for something like Wedding Cake in Florida, but we don't sell that. We can respond nimbly by putting plants in the ground to address that unmet need or stocking third-party brands that grow that strain."
Refreshingly, Columbia Care doesn't mind competitors' products as long as the products are high-quality and in demand. Channon is vehement in his belief that being the best retailer doesn't mean restricting competition in order to sell more high-margin house brands.
"It shouldn't be only our own stuff," he said. "There are incredible third-party brands across all these states that deserve a spot on our shelves. I don't care if it's from a competitor. That doesn't make a difference to me. The customer wants the best of everything across all categories, and sometimes that's not one of our products. And that's okay."
Running a successful chain requires a national-local strategy that uses consistent guidelines and frameworks from the parent company but allows for flexibility in execution at the store level. As Channon sees it, Columbia Care's headquarters sets the tone and the guardrails, but individual stores do have a say over the specific items and brands they stock.
"There is something really special about the regional markets and the things that matter to them," he explained. "That's why we try to provide the room for our local teams. You have to trust that they're going to take the support and the company playbook we provide from HQ and make it their own."
Columbia Care will have the majority of its stores under the Cannabist brand by the end of this year. With the change complete, the company will be primed to set a high bar for national cannabis retail, turning its "smart stores" into launchpads for the products of tomorrow.
This post was originally published on this site